Thursday Huddle-[Tailgating Tips]
Hey Y'all!
After my fair share of tailgating either at the game or hosting parties at home, I have definitely come up with some great tips on how to keep things fun, easy and stress free. Tailgating is no joke and starting the game day off stressed is not a good sign!
Here are my tips and tricks that I have come up with throughout the years:
1. Arrive at least four hours prior to kick-off! This will give you plenty of time to fire up the grill, eat, drink, play a few games, mingle with neighbors, and clean up before heading towards the field. -BRING A TENT/CANOPY
2. Keep a tool box or plastic tote in your car full of tailgating essentials including
-tylenol/advil -bottled water -tampons -a football
-spare shirt/jersey -koozies -matches/lighter -a hat/sunglasses
-jumper cables -portable phone charger -trash bags -baby wipes
-sharpies -bottle openers -paper towels -plastic bags
-hand sanitizer -umbrella -flashlight
3. Bring a cooler and pack it correctly
4. Do the prep work the night before (ie. skewer kabobs, form burgers, cut veggies)
5. Introduce yourself to your neighbors! They could become your lifesavers or best friends. If you forget an essential, they could have it. If you all hit if off, you could make tailgating together a thing and share the duties!
1. Menu plan-yeah it may sound silly but, do it. If you are inviting 5+ people over to be drinking and watching the game, you need to have enough food to keep them happy.
2. Food: Keep it simple. This is not the time to be trying out a fancy 22 marinade whole chicken. you want quick, easy, and delicious. Finger foods, dips, and apps. are your best friend.
3. Games! Set up a beer pong/flip cup table, grab some corn hole boards, and make sure there is something for children to do: a movie in a second room, coloring pages, board games, etc.
4. Make sure there is enough seating.
5. Make it cute. The plus side to watching a game at home other than having a/c, is that it is your house. You can plan as far in advance as you want to make sure everything will be perfect. Add cute touches like football decorated cups or a football field table cloth.
Regardless of where you are tailgating, remember to have fun!
Are you ready for some football? It's that time of year again. Time to break out your favorite, jersey, munch on some wings, crack open a cold one, cheer for your favorite football team, and spend time with family and friends. What better way to bring on football season than sharing your favorite things about football with everyone! So I bring you the #ThursdayHuddleParty with Lexi from
A Blissful Haven
where everyone can see how you celebrate football! Be sure to link up every Thursday through football season. I would love to have you and can't wait to read about your favorite things about football!
What You Can Link Up: *Anything Football Related such as, recipes to make for Game Day, fashion posts that relate to sportswear/Game Day/what to wear to games, memories relating to football, DIY Football Crafts, updates on your kids' football games, etc. Linkup Rules (Guidelines):
Follow your host and co-hosts in some way
Link up your Thursday Huddle post, NOT your blog URL
Use the hashtag #ThursdayHuddleParty when you share on social media
Grab the button and display it on your blog so others can join the party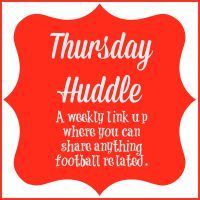 What are some of your tips and tricks of tailgating!