Stitch Fix #1 Reveal+ A NEW LINK UP!
So, if you have been around here a while, you will know that I have tried
Stitch Fix
twice in the past and had horrible luck. I followed all the "tips" people suggested and it was just a joke. However, last month, Stitch Fix contacted me and asked me if I would give them another try. They informed me that they changed how they did the orders on their end and they were confident that they could make me a happy customer. I obliged so, I am currently on a 3 month trial period with them. During this three months, I will be receiving 6 boxes.
Basically, I got so fed up after 12 boxes (5 one time and 7 the other) that I stopped the service. I felt like my "style quiz" and "note to styler" message were not being read or taken into consideration. I don't like spending money on items that are not versatile. I like to be able to go into my closet and see what I can and can't pair with something and be done with it. I usually don't have the time to be trying outfits on over and over because one piece is too unique.
What is Stitch Fix?
If you don't know what Stitch Fix is, it is an online clothing store and personal styling service. For a $20 styling fee (which is taken out of your bank account when your Fix ships), you can have five personally selected pieces shipped right to your door. These pieces are selected by your personal stylist, who carefully reviews a "style profile" that you create. The $20 will be credited towards whatever pieces you decided to keep from your Fix. Things that you don't want are placed in a pre-paid mailer and sent back. If you end up wanting to keep all of your items, the $20 styling fee will go towards your end total as will a 25% discount.
Stitch Fix encourages you to try on every item because they usually send items you would not pick on your own so, they want you to see it on rather than just holding it up. When you "check out" online after receiving your fix, you tell them which items you are keeping and give detailed reviews of each item to help better your next fix. It will ask you what you liked/didn't like about the fit, style, and pattern.
My Fix:
this is what I received this time around.
Items 1 and 2: RETURNED
1: Papermoon Sheydon Trim Detail Blouse $44
I did really like the print and style of this top however, it was a bit tight under the arms. I would have kept it if it fit correctly.
2: Pistola Distressed Frayed Skinny Jeans $88
I hated the bottom of these. They were frayed and looked tacky so I rolled them up a bit. I did like them but, $88 for a pair of jeans? give me a break!
Item 3: RETURNED
3: Gilli Haven Textured Knit Dress $64
I am SO upset that this has polka dots on it. I hate polka dots. I think they are extremely juvenile however, this was the best fitting and most comfortable dress I have ever put on! I wish more than anything that it was a different print or solid color!
Item 4: KEPT
4: Papermoon Etsie Textured Knit Dress $74
The color, cut, and style of this dress is just everything to me! I do want to get it hemmed a bit though because I do not like to wear dresses that cut at or below my knees.
Item 5: RETURNED
5: Octavia Jolene Zipper Flap Crossbody $48
I did really enjoy the color of this bag but, it isn't super practical and the price was too high for me.
Lynn was my stylist and I have to say, I am still not impressed. She claimed that the polka dot dress was an easy to style "neutral dress"...what about blatant polka dots is neutral?? Everything else was sub par in my opinion other than the Cobalt blue dress I am keeping. One box down, eleven to go for Stitch Fix to prove me wrong!
- - - - - - - - - - - - - - - - - - - - - - - - - - - - - - - - - - - - - - - - - - - - - - - - -
I am so excited to bring y'all a new Link Up!
Ashley from
Girl Talk
, Leah from
Chasing Texas
and I have created a new monthly fitness link up! The link up is appropriately titled "Sweat It Out". We want you to link up any fitness related (goals, work out routines, diet progress, tips/tricks) or healthy food related posts on the first Tuesday of each month!
Don't forget to grab our button+ link up your work out/healthy food related posts with us Next Tuesday: May 3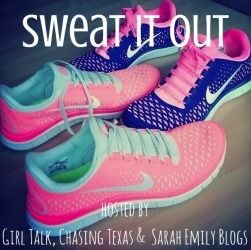 Will we see you linking up next Tuesday?
What do you all think of the items I was sent? Do you use Stitch Fix? How have your experiences been?