Sweat It Out: My Work Out Essentials [Link Up]
Happy Tuesday Loves!
I am SO excited because today is the first month of the Sweat it Out Link Up!
Ashley
,
Leah
and I have created this link up for you all to share your healthy/fitness related tips with us!
Today I am going to be sharing with you: My Work Out Essentials. If you have been around for a while, you will know that I did an essentials post
last year
. However, new things have come out and I have found some new "must haves"
North Face Borealis
Backpack
: this bag is great. it is lightweight and holds all of your essentials (minus the yoga mat). It has a laptop sleeve in it which I like because occasionally I will being my laptop to the gym with me, go in one of the empty studios and do Youtube workouts!
Nike Flex TR4
: these are my favorite sneakers ever. They are perfect for general gym training, running, and day to day life.
Infusing
Water Bottle
: I hate water. I know it is horrible but I am so bad at drinking it unless it is infused. I am obsessed with infuser bottles.
Pacifica
Deodorant Wipes
: let me tell you, I was sent these a few weeks ago and I was pretty skeptical about how they would be but, these are a holy grail item. These are great to use after a gym sesh when you have places to go. The smell is amazing and long lasting.
2lb.
wrist weights
: these are essential to my workouts. whether I am doing yoga or a cardio session I put these on for an extra challenge.
Nike Studio Wraps
: these are essential to me for yoga. they provide support for your feet and ar also slip proof so you stay put in your positions.
Gaiam
Yoga Ma
t: I am obsessed with the color and feel of this mat.
body glide
: because, ouch!
Simple Face
Cleansing Wipes
: it is so important to rid your face of the oils and sweat after a good work out session. Simple wipes are my favorite because they are non-scented and leave my face feeling fresh!
Don't forget to grab our button+ link up your work out/healthy food related posts with us on the first Tuesday of every month!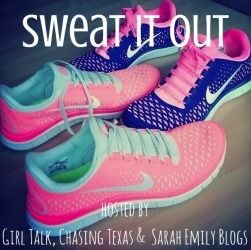 What are your most essential work out items? Do you have a favorite water infusion?